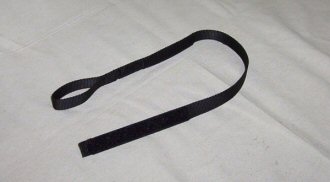 Nylon Webbing Strap and Velcro
The Sheepman
Leg Ties
* Slip loop over or wrap nylon webbing strap around one back leg and then pull together the two front legs - hold the three legs together and then wrap around the remainding length of the leg tie making sure to connect the two strips of velcro together.

* Simple and easy to handle - no knots or tangles.

* Quick and easy to undo - just release velcro connection and unwrap - again no wet or hard knots to undo.